Casa Blanca, Nicaragua









Click on Programs to learn more about their work in this community
General Information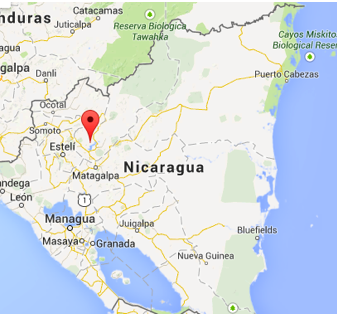 Population*
614
Number of Homes
142
Avg # of people per home
4
Number & Percentage of Children

0-5 (10%): 70

6-14 (18%): 127

Electricity
Yes
Municipality
Pueblo Nuevo
Department
Estelí
Health Center
Yes; open 3 days a week
Distance from compounds
50 km. from Estelimar
Road conditions
N/A
* Population does not reflect how many patients will be seen on Medical
Brigades as many people from surrounding communities come seeking
Medical Brigades medical attention.
The community of Casa Blanca is approximately 30 years old and was founded when families from or near Honduras immigrated due to war and violence. 30% of families are from Mapa, near southern Honduras and the other 70% are from various regions around Casa Blanca.
Top Three Needs Expressed
• Latrines: Not all families in the community have access to a latrine and many latrines build in the community are in poor condition
• Water Service: The current water system was built in 1994 and was heavily damaged by Hurricane Mitch in 2002. Although it was repaired, problems are still arising with the system's functionality. In addition, the community has grown a lot since the system was created, and around 60% of the community currently does not have access to water
• Houses: Many houses in the community are in poor condition and many walls to these houses are falling down.
Education
The community's school, Amigos de Alemania, has 17 teachers total, including the principal and the librarian. In kindergarten there are 25 students, 13 girls and 12 boys. In elementary (1st-6th grade), there are 114 students, 66 girls and 48 boys. In high school (7th-11th grade), there are 173 students, 83 girls and 90 boys. Most of the students graduate from high school.


In elementary school, the students are taught Math, Literature and Language, ECA (Expression, Culture, and Art), Physical Education, Vocational, Natural Science and Social Studies. This year, the elementary school participated in a competition with neighboring schools and won awards in Language and History competitions.


In high school, the students are taught Math, Literature and Language, ECA, English as a Foreign Language, Physical Education, Vocational, Physics, Chemistry, Biology, Economy and Geography. A few high school students competed in a national competition for Long Jump and Distance Running.

About 4 years ago, Amigos de Alemania also began teaching about preventative health and nutrition. Every morning students attend an educational Charla where they learn the importance of washing hands and as one mother, Brenda, attested to, students often bring this information home. Brenda described how her 7-year-old daughter reminds her to pick up trash and keep their home clean. Principal Carmen explained how this program has made a positive impact in the community.

Principal Carmen described her favorite aspect of the school is the united front between families and the school. She explained how parents, students and teachers work as "un equipo" to encourage students to continue their education.

While elementary school is divided between the four sectors of the community, the high school meets in Casa Blanca because it is at the center. Two of the four sectors must cross a river to get to school. If it has rained, the river will have flooded and the kids cannot get to school. This affects all members of the



Water
The current system of the community was built in 1994. In 2002 when hurricane Mitch came through it was heavily damaged. It was fixed but still has problems. In addition, the community has grown a lot since the water system was created. This means that there is not enough water provided for the whole community and 60% of the community is left without water.
In addition, some of the largest health issues identified by the nurses of the health center are reportedly due to lack of access to potable water.
Health
Some of the most common health issues found in Casa Blanca include chronic diseases like hypertension, respiratory disease and diarrhea. The most common, non-disease related injury is major cuts from working with a machete in the fields. This usually happens during the rainy season, but the occurrence is rare. The community sends women that are 38 weeks pregnant to a maternity house in case of birth complications. The largest health issues identified by the nurses of the health center are medications for chronic illness, analgesics, and rehydration as well as improved access to potable water.
The Casa Blanca Community has had a health center for thirteen years and employs two doctors, two nurses, and sixteen brigadistas. The center operates from 8am to 4pm on Mondays, Tuesdays, and Thursdays. On Wednesdays and Fridays, nurses and brigadistas go into the community to make house calls, update charts, and educate community members on disease prevention. The health center is closed on weekends. The doctors are available infrequently, ranging from twice a week to once a month, depending on their call schedule at the hospital in Estelí. All of the doctors and nurses have a formal education. The health center was built by the US Marine Corps and usually serves about 30-50 people a day. To prevent the clinic from being overloaded, chronic patients are instructed to come 1-2 times a month and different communities are scheduled on different days. The average wait is about 1 hour for most patients and 20-30 minutes for priority patients such as pregnant women.

The health center is usually equipped to give vaccinations, pap smears, pre- and post-natal pregnancy care, and family planning. Ideally, the health center will receive medicines monthly from the hospital, but this is not often the case. Because of the inconsistent access to medications, the health center's pharmacy is lacking many medications, especially those for chronic patients. Additionally, the pharmacy is held in an unlocked room. Without the necessary staff they have no way of monitoring it, and the staff have often caught people trying to take drugs out themselves. The health center lacks other supplies, including latex gloves which usually last only 20-30 days. Another potential problem is the storage of sterile items such as gauze, which they have in supply, but not in a sterile location.

In case of emergencies the health center sends patients to the hospital by calling and asking for an ambulance to be sent. The hospital is close to Pueblo Nuevo, located about 6 km away which is 15-20 minutes by car and 30 minutes by bus. The hospital only has one ambulance, however, but it also has a truck that can be used in case the ambulance is either in use or too far away. The transportation provided by MINSA is free to the patient, but if the emergency requires immediate attention or occurs at night, the patient usually finds a neighbor or a taxi that will give them a ride. They will usually charge the patient about C$200 for gas. If the emergency occurs on the weekend when a health center official is not working, the community leaders make sure to call the hospital.


Socio-Economics
The most prominent source of income in the Casa Blanca community is agriculture, primarily of corn and beans. Community members generally live within 2-3 kilometers from the fields, but this distance may reach 7 kilometers. Most walk this distance to work unless they have a bike or have money for the bus.


Corn and beans are grown in the same season that goes from May to November. For this reason, they are planted together, with the corn being planted first and the beans on top. The planting season is not year round, and therefore many of the workers in Casa Blanca have only temporary jobs and are employed based on the season. Many community members also work growing and harvesting coffee, which starts in November or December and ends in February. Some people own the land that they work on and others share land. Because they are paid by the day, field workers can make up to 2,000-2,400 Cordoba monthly if they work every day. In actuality, many are only able to find work a few days a week or a month, resulting in a monthly income of 100 Cordoba.


To get extra work, the men in the community might travel to Honduras or Costa Rica for extra work on coffee farms. Sometimes the women will come with them. They would leave around November and return around March after the coffee season has ended. However, this temporary migration is not feasible for all members of the community. Traveling requires extra money due to the cost of passport, transportation, and other travel related costs.


Other Organizations Working in the Community
There is one other organization that exists that is working in this community.