Apali Los Guasimos, Honduras







Click on Programs to learn more about their work in this community
General Information
| | |
| --- | --- |
| Population* | 600 |
| Number of homes | 60 |
| Avg # of people per home | 5-10 |
| Number and % of children under 12 | 100, 6% |
| Primary Occupations | Agriculture |
| Water System | Yes |
| Community Bank | No |
| % of Homes with Latrines | 100% |
| Electricity | Yes |
| Corresponding Health Center | CESAR - Jutiapa |
| Common Illnesses | Dengue, respiratory problems, diarrhea |
| School Access & Distance | 1st-6th grade in community |
| Municipality | Danlí |
| Department | El Paraíso |
| GPS | N/A |
| Distance from compounds | 2 hours |
* Population does not reflect how many patients will be seen on medical
brigades as many people from surrounding communities come seeking
Medical Brigades medical attention.
Top Needs Expressed
The top needs expressed by the key community members are another water source and an improved school.
Geography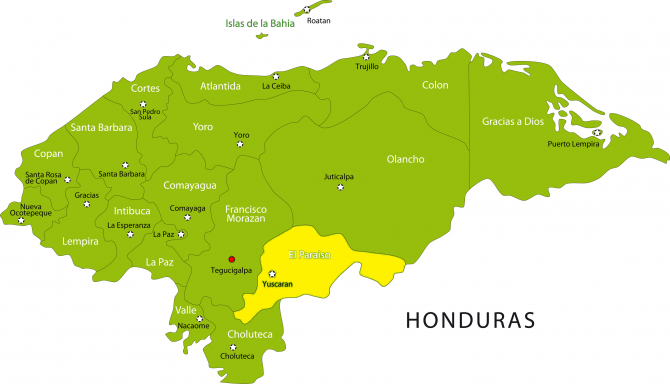 Apali Los Guasimos is located in the municipality Danlí within the department El Paraíso.
Education
Apali Los Guasimos has a primary school with about 73 students in classes up to 6th grade. Students must travel out of town to San Diego to receive education beyond the 6th grade. For students from Apali Los Cuasimos, it is about a 30 minute walk to the middle school in Jutiapa and about an hour walk to the high school in San Diego.
Water
A water system was built in Apali Los Guasimos by SANAA in 2002. Issues arise during the rainy season due to the large amount of water which causes damage to the pipes. Issues with the current system also arise during the dry season when not enough rain comes to produce sufficient water for the community.
Health
The closest health center is located outside of Apali Los Guasimos, 30 minutes away in Jutiapa. It is a CESAR, or the smaller of the two health centers that the Honduran government provides. At this care facility patients can only seek consultation from nurses.
Socio-economics
The main source of income in Apali Los Guasimos is driven by traditional agriculture, harvesting corn and beans. Community members in this area also care for animals and sell animal products such as meat, dairy products, and eggs.
Other Observations
The local government has a presence in Apali Los Guasimos and has completed several infrastructure projects such as building a bridge. SANAA also has a presence in the community with a water project.
Gallery